V80 Van for sale in Cairns
See vehicles in stock and ready for immediate delivery. More vehicles are frequently added to our stock. Please contact us to find out more.
View All V80 Van
The big LDV V80 Van.It ticks all the boxes.
The LDV V80 van offers you the pleasure of car-like handling with the power of an advanced diesel engine. Perfect for all your transport needs, the LDV is designed to carry large loads, while you travel in complete comfort. With a massive number of worldwide sales and multiple awards, it's already made its mark.
Power for the LDV V80 vans comes from an advanced, economical 2.5-litre turbo-diesel four-cylinder engine designed by the Italian VM Motori company. The Bosch electronically controlled engine produces up to 100 kW of power and 330 Nm of torque.
The V80 van is loaded with smart features like cruise control for those long journeys, fog lamps for added visibility and rear parking sensors for more confidence in reversing. The large load area which takes two standard pallets, dual sliding doors and rear barn doors makes loading a breeze.
The V80 van is available in a short wheel base low roof, long wheel base mid roof and long wheel base high roof so no matter what you need to carry, chances are there is a V80 built for the job.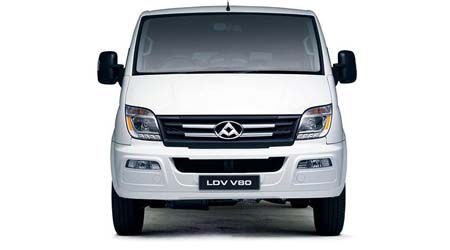 Diesel performance
The LDV V80 van is equipped with an advanced 2.5 litre turbo diesel engine designed by Italian diesel engine specialist VM Motori. The Bosch electronically controlled, common rail, direct fuel injected, intercooled engine supplies 100kw @ 3800rpm and 330Nm of torque. The engine is mounted transversely on the frame and provides the vehicle's front wheel drive. The engine employs a common rail fuel injection system for improved combustion efficiency, as well as low fuel consumption.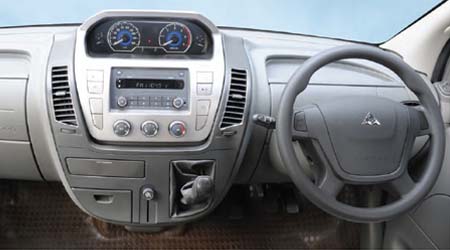 Lots of features
From front to back, the LDV V80 van gives you more, combining efficiency and comfort as only European designed vehicles can. Its low floor clearance gives you greater room, payload and ease of loading. When it comes to cabin comfort the LDV comes complete with air conditioning, cruise control, remote keyless entry, audio with radio and MP3 connectivity, an 8-way adjustable driver's seat, power windows and mirrors.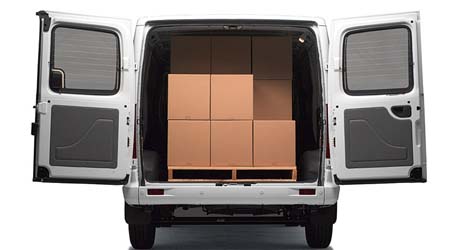 Loads of space
LDV V80 is built for capacity and efficiency. Its large load area offers a substantial 6.4m3* of volume in the short wheel base model, which extends to a massive 10.4m3* and 11.6m3* on the long wheel base medium and high roof models respectively. Two standard pallets can be carried in tandem in the load area of all models courtesy of the 1380mm width between the wheel arches. The low floor clearance provides not only greater room but assists with ease of loading. The double-side sliding doors make loading a palette safer and faster while the rear barn doors open to 180° for easier loading with a forklift or at a dock. There's also the added benefit of recessed load tie down points and a heavy duty cargo mat.
* Payload includes occupants, fuel and fitted options. The weight of these must be deducted from the payload to determine load carrying capacity. Front and rear axle loads must not be exceeded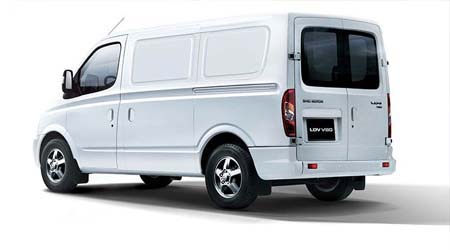 Safety and security features
LDV V80 comes with remote two stage central locking, with the first press unlocking the driver's door only, then the other doors with the second press. The LDV V80 is constructed of a strong energy-absorbing unibody made of high tensile yet lightweight materials to provide added safety without compromising fuel efficiency. Standard safety equipment includes dual airbags, rear parking sensors and four wheel disc brakes with ABS (Anti-lock Braking System) and EBD (Electronic Brakeforce Distribution). Safety hasn't been forgotten when loading, with the benefit of dual sliding doors ensuring loading and unloading can occur on the safest side of the vehicle.
*Payload includes occupants, fuel and fitted options. The weight of these must be deducted from the payload to determine load carrying capacity. Front and rear axle loads must not be exceeded
The declared fuel consumption figures are determined by testing under standardised laboratory conditions to comply with ADR 81/02. Real world fuel consumption is influenced by many additional factors such as individual driving style, load, traffic and vehicle condition. The declared fuel consumption figure should only be used for the purpose of comparison amongst vehicles.